FLY FISHING IN ESTES PARK
COME FISH WITH THE LOCALS
Looking for an unforgettable fly fishing experience in or near Estes Park? Discover the art of fly fishing in Rocky Mountain National Park with the guidance of our skilled and knowledgeable fishing experts.
As Estes Park's Premier Guide Service, Fly Fish Estes Park takes pride in its 15 years of experience fishing and guiding in the Northern Colorado, and Southern Wyoming region. Our team of local guides possesses intimate familiarity with the area, granting us year-round access to Rocky Mountain National Park, the Big Thompson River, and the surrounding landscapes. This allows us to tailor our fly fishing trips to meet the unique preferences and requirements of each client we serve.
To ensure a personalized experience, all our trips are private, and we never combine groups. With access to the Big Thompson River, Colorado River, Fall River, the Saint Vrain River, numerous private properties, over 30 alpine lakes, and four trout species (Brown Trout, Rainbow Trout, Brook Trout, and Greenback Cutthroat Trout), we can curate the perfect fishing excursion for our guests.
Whether you're a novice or an experienced angler, our guides possess the expertise, local insight, patience, and dedication to make your vacation an unforgettable one. Rest assured, Fly Fish Estes Park LLC is a licensed, bonded, and insured outfitter registered in the state of Colorado. We are also regulated by the Department of Regulatory Affairs (D.O.R.A), ensuring your safety and enjoyment throughout your fly fishing adventure.
Choose Fly Fish Estes Park for an exceptional fly fishing experience amidst the breathtaking Rocky Mountain High Country.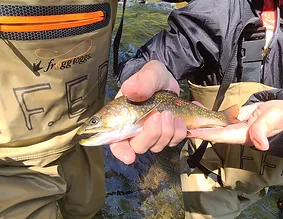 FFEP offers 2,4,6 and 8 hour guided fishing trips for anglers of all ability levels.
Trips are always private. Groups are never combined!
All gear included, no extra charge!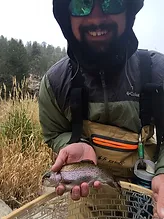 Private & Group Lessons
Casting
Reading water
Set-up & rigging
Basic entomology
Leave no trace instruction
Half dozen free flies!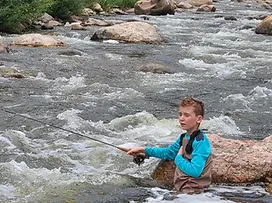 3 days of instruction for kids ages 8-15
Dates now set for the start of our 2023 kids summer camps. Introduce your kids to fly fishing and watch them get hooked!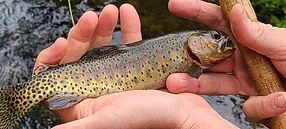 Check the local fishing report
Find out what flies are working and which rivers are fishing the best!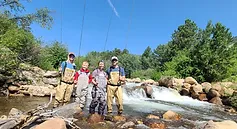 Book your adventure today!
Click on the link above or call us to schedule your trip.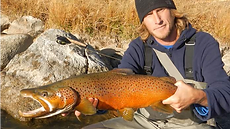 All about Fly Fish Estes Park!
What drives us to do what we do, our passion, and how we give back to the community and nature!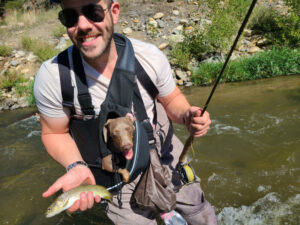 Take a look at our past clients pictures and see what they have to say about Guided trips with Fly Fish Estes Park!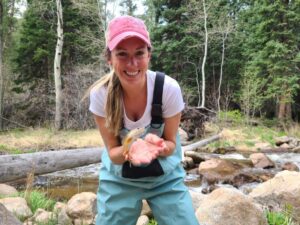 Keep up to date with all the latest articles on and about Fly Fishing. New Blog posted every two weeks!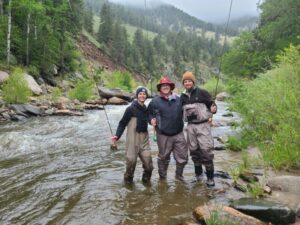 Check out these local businesses, we are proud to support our local partners and community!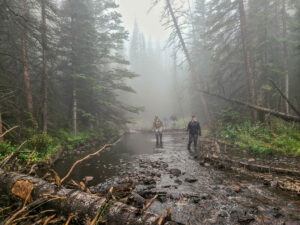 Have more questions? Looking for what's working and where? Click below to access our contact form. We are more than happy to answer all your fly fishing questions!
Why Choose Fly Fish Estes Park
As the founder of Fly Fish Estes Park, I am proud to offer our premier guide service to anglers seeking an exceptional fly fishing experience. Our outfitter is dedicated to delivering unparalleled service and creating lasting memories for our valued clients. What sets us apart is our genuine love for the sport and our passion for teaching others. We take great joy in sharing our knowledge and expertise, whether you're a seasoned angler or just starting out. Our patient and personalized instruction ensure that every fishing excursion is not only successful but also an opportunity for growth and skill development.
At Fly Fish Estes Park, we are a family-run and family-oriented business. We understand the importance of creating a welcoming and inclusive environment for all ages and skill levels. From the moment you step into our shop, you'll feel like part of our fishing family. We go above and beyond to accommodate families and provide an experience that caters to everyone's needs. Our aim is to foster a sense of togetherness and create cherished moments that will be treasured for years to come.
Our team of expert guides is the backbone of Fly Fish Estes Park. With their extensive knowledge of the local waters and years of experience, they are true masters of their craft. We have carefully selected individuals who possess a deep understanding of fly fishing in the Rocky Mountains. Their expertise allows them to navigate the intricacies of the sport, ensuring that each fishing excursion is a successful and memorable adventure. We take pride in our guides' ability to share their passion and knowledge with our clients, guaranteeing an exceptional fly fishing experience.
As Estes Park's premier guide service, we are fortunate to have unrivaled access to Rocky Mountain National Park (RMNP). This natural wonderland provides a stunning backdrop for our fishing expeditions. The crystal-clear rivers and serene alpine lakes within the park offer an unparalleled fly fishing experience. We are grateful for the opportunity to explore and fish in such a majestic setting and to share the beauty of RMNP with our clients. Being in close proximity to the park allows us to seamlessly incorporate its wonders into our fishing trips, making each outing a truly awe-inspiring adventure.
At Fly Fish Estes Park, we are committed to providing authentic and fair fly fishing experiences. We firmly believe in maintaining the integrity of the sport and ensuring that our clients have access to true Rocky Mountain fly fishing. We do not engage in sales or markup for private water, eliminating artificial barriers and providing genuine opportunities for anglers to connect with nature and experience the thrill of catching wild fish in their natural habitat.
In conclusion, as the founder of Fly Fish Estes Park, I am honored to lead a premier guide service that embodies a love for the sport, patient instruction, family-oriented values, expert guides, and unparalleled access to Rocky Mountain National Park. Our commitment to teaching, enthusiasm for the sport, and dedication to authenticity make every fishing trip a truly unforgettable adventure. We look forward to sharing our passion and knowledge with you and creating memories that will last a lifetime.