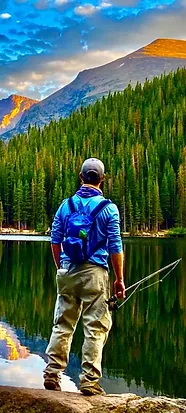 We, at Fly Fish Estes Park, have a singular goal: to cultivate a deep love for outdoor adventures and fly fishing by providing exceptional service and instruction in a fun, safe, and sustainable manner.
Having accumulated over fifteen years of experience guiding for renowned fly shops in town like Kirk's Fly Shop and Estes Angler, we, as a team, recognized a missing element. We took the opportunity to focus solely on guided fly fishing instruction and backcountry trips, eliminating distractions and unnecessary costs associated with private water, gear rental, and retail sales.
This mission statement empowers each of our highly skilled local guides to devote their undivided attention to ensuring our clients receive the utmost level of customer service and instruction. Every trip is customized to meet the unique needs of each individual guest.
We, at Fly Fish Estes Park, eagerly anticipate the chance to meet each new client and assist them in rediscovering their passion for the outdoors. Our aim is to create memories that will last a lifetime.
Fly Fishing Estes Park Guide Bios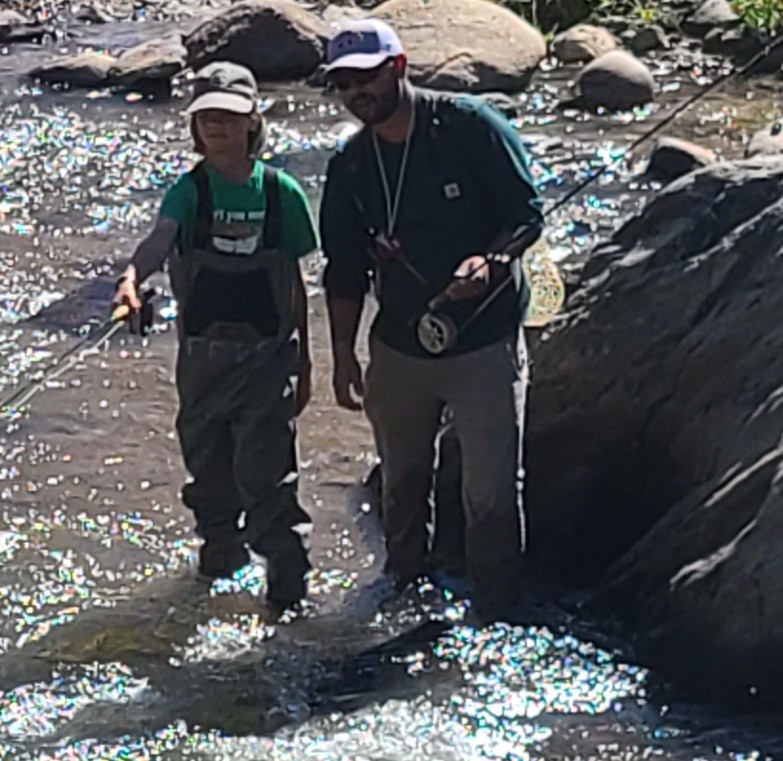 Marc Silva
Marc Silva is an exceptional fly fishing guide and golf pro hailing from Colorado. As a native of the state, he possesses an intimate knowledge of its waters and landscapes, allowing him to offer unparalleled guidance and expertise to his clients. With a genuine passion for teaching, Marc takes great pleasure in sharing his extensive knowledge and skills with both beginners and experienced anglers alike. Whether it's imparting casting techniques, sharing insights on local fishing hotspots, or providing valuable tips for landing trophy catches, Marc's patient and enthusiastic teaching style ensures an enjoyable and rewarding experience on the water. His dual expertise as a fly fishing guide and golf pro brings a unique perspective and understanding of the outdoors, making him a sought-after guide for those looking to immerse themselves in the natural beauty and sporting pursuits of Colorado.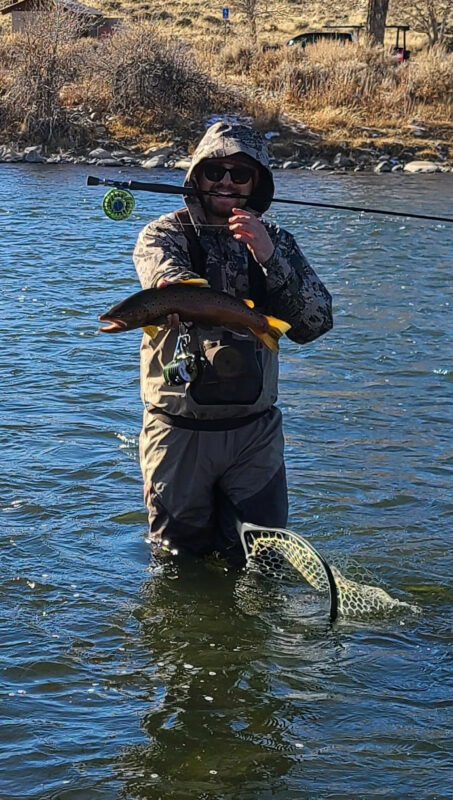 Adam Nickel
Adam Nickel is a highly experienced fly fishing guide with a deep dedication to entomology. With over eight years of guiding experience, he has honed his skills and developed an extensive understanding of the intricate world of insects and their impact on fly fishing. As a dedicated entomologist and fly tier, Adam's expertise allows him to provide valuable insights into the behavior, hatches, and patterns of various insect species, enabling his clients to make informed decisions on fly selection and presentation. His passion for entomology shines through in his meticulous approach to guiding, as he strives to create immersive and educational experiences for every angler he works with. Adam's combination of fly fishing expertise and entomological knowledge make him an invaluable asset for those seeking a guided adventure that delves into the fascinating realm of insects and their influence on the sport.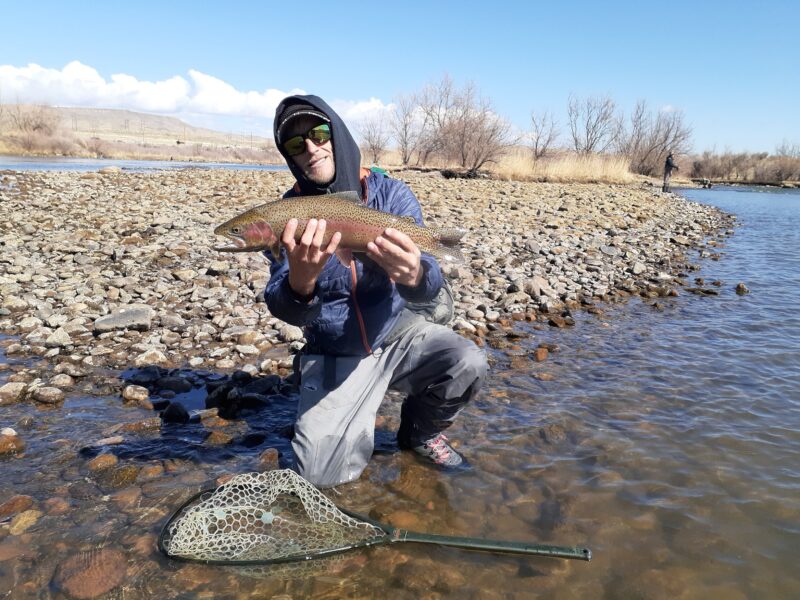 Jim Boyd
Jim Boyd, a native of Colorado, is an outstanding fly fishing guide who not only hails from the state but also possesses an intimate understanding of its rivers, and streams. With a deep love for teaching, Jim finds immense joy in sharing his expertise and knowledge with anglers of all levels. His passion for exploring lesser-known and secluded locations allows him to take his clients on extraordinary fishing trips to off-the-beaten-path destinations. Patient and attentive, Jim creates a comfortable and supportive environment for both beginner and advanced anglers, tailoring his instruction to meet the unique needs of each individual. With Jim as your guide, you can expect an unforgettable experience in the stunning Colorado wilderness, as he imparts his wisdom and helps you refine your fly fishing skills while creating lasting memories along the way.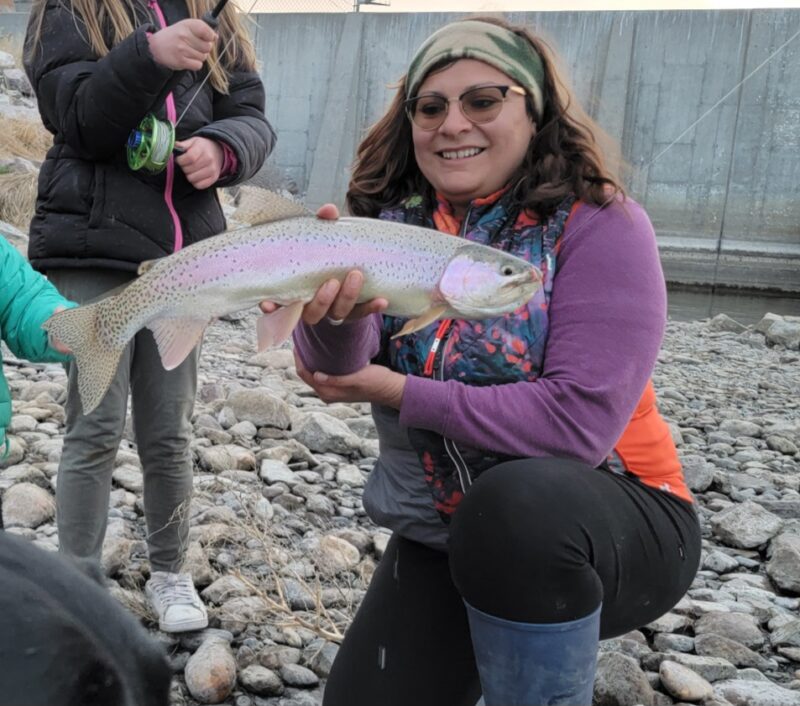 Jenna Nickel
Jenna Nickel is a dedicated wilderness park ranger and a part-time hiking and fishing guide with expertise in Rocky Mountain National Park (RMNP). With a deep passion for the outdoors and a love for sharing her knowledge, Jenna's role as a park ranger allows her to protect and preserve the natural beauty of the wilderness, she calls home. As an experienced hiking and fishing guide, she possesses an intimate understanding of RMNP's trails, ecosystems, and fishing hotspots. Jenna's enthusiasm for exploring the park's pristine landscapes shines through as she leads visitors on remarkable hiking adventures and teaches them the art of fishing in its serene waters. Her in-depth knowledge of RMNP, coupled with her warm and friendly demeanor, ensures that every excursion with Jenna is both educational and enjoyable. Whether you're seeking a breathtaking hike or a memorable fishing experience, Jenna's expertise and genuine love for the park make her the ideal guide for immersing yourself in the wonders of Rocky Mountain National Park.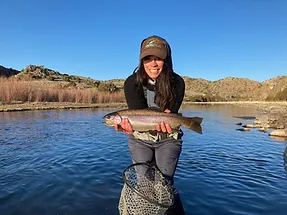 Sarah Feeney
Sarah Feeney has been hiking and fishing the Estes Park area for many years. She enjoys showing others the fun and adventure that fly fishing has to offer. If she's not out guiding she's usually out on the water fishing or hiking in Rocky Mountain National Park.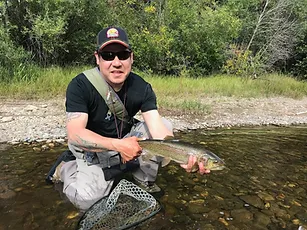 Al Sanchez
Born and raised in San Antonio, TX, Al began fishing for fresh and saltwater
species at an early age, that passion for fishing eventually brought him to the waters of Colorado, where he has lived for twenty years.
Once introduced to the headwaters above tree line, and the tail waters along the Front Range and Western Slope, Al was "hooked", and began sharing his passion through guided fly fishing instruction.
When Al is not on the water guiding, you can find him in the classroom instructing others on what it takes to become a professional fly fishing guide, fishing the backcountry or one of our many tailwaters.
Let Al teach you about Traditional Western Style Dry Fly-Dry/Dropper rigs, European (Czech) nymph techniques and stripping/swinging streamers.
Al is available for guided fly fishing trips year round.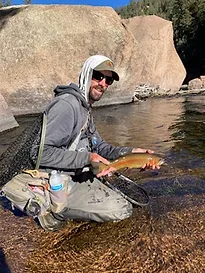 Matt Feeney
Matt Feeney has been Fly fishing since he was a five. He discovered his love for the rivers and mountains of Colorado 12 years ago, and has been guiding and fishing for the past eight years in the Northern Colorado/ Southern Wyoming and Estes Park areas.
He is a commercial fly tier, as well as having a passion for the Rocky Mountains and teaching others how to fly fish.
Giving Back to the Estes Park Community
FFEP Clear Water Program
Fly Fish Estes Park LLC is proud to partner with the City of Loveland Parks and Open Space to promote our shop's "Clear Water Program".
For one day each month we close up shop and the entire FFEP Family heads out to help remove trash and debris from the Big Thompson River at Viestenz-Smith Mountain Park and other local fisheries. This helps to ensure the rivers and lakes we all rely on are being protected for the next generation of anglers!
To date we have helped to remove more than 1 Ton of trash and flood debris from our local waterways, lakes, and parks!
​*If you would like more information about our clean-up dates, or to volunteer your time and help with a great cause, please call us at: (970)-702-4986 We look forward to hearing from you!!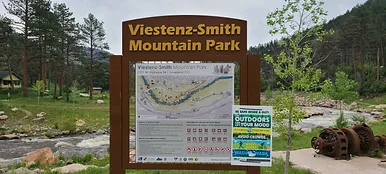 RevitalColorado.org
Fly Fish Estes Park is excited to begin working with our friends at RevitalColorado.org!
Follow the links below to view dates for the upcoming 2022 Spring Fly Fishing Season!
RevitalColorado.org is an incredible nonprofit that serves the mental health needs of our first responders. Their mission is to be a lifeline to our frontline! Through a proactive and preventative maintenance approach to mental wellness. Providing healthy outings and programs of healing from the stress and trauma of their service to our communities. Aiding in work performance and career longevity
Revital Colorado: